5 Year-End Blog Post Ideas
A great way to end the year with your ag blog is a roundup. Summarizing your year shows readers a quick overview of what your blog is all about. It is also good to see where you've been and how far you've come reminding you of why you blog. A review of the year will bring those posts back to life and give them a little link love.
1. Seasons: One quick post could include showing your farm activities through the seasons. Because ag is naturally divided into the four seasons, it should be easy to outline a post hilighting spring, summer, winter and fall. Even better if you can add pictures to dress up the post. (click images to enlarge)
2. Banner Days: Remember the big events of the year. This is going to be different for each farm but everyone has days that standout more than others. Maybe for Ryan at AgricultureProud.com his post about speaking to the FFA in New Mexico was a memorable day. I would have to guess one of Brian's banner days was going to the Final Four that he wrote about in The Famer's Life. By displaying the important times of your year, it gives your reader a better glimpse of who you are to feel more connected to you.
3. Favorite Posts: List three or four of your favorite posts. William at The Dairyman's Blog might pick My Dad: A farmer and family man, a short but sweet tribute to his father. It's good to bring some life back to those posts that mean the most to you, that you put a little more thought and time into.  You could even write about posts that were popular with your readers such as Why I Grow Corn that received a number of comments at Darin's Ramblings. If the post was interesting earlier in the year, you should think about introducing it to new readers and visitors to your blog.
4. Slide Show: Visuals are favorable for any blog post. You can accentuate your synopsis of the year with a slideshow of pictures. Most photo editing programs can put a nice slideshow together for you or use Windows Movie Maker or iMovie. Another option is to create an account in Animoto and make a short video using some of their holiday animations just like the one below.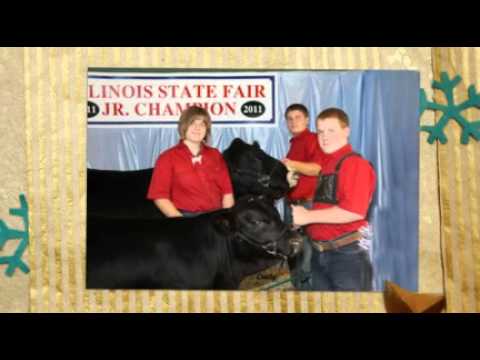 5. Biggest Influencers: Finally it is always important to remember the people in your life that have made a lasting impression on you. Who has shown you how to be a better person? Did someone help you out of the blue? Maybe list your mentors and talk about how each has changed your life. Or maybe you're missing someone who you wish was still around to give you a kick in the pants when needed.

Giving a recap of your year might be just the thing to do to end 2011 on your ag blog. Tell me which idea inspired you the most in the comments. Then come back and leave a link after you've published it because I would love to read it.