Video Review of Boucher Farms Blog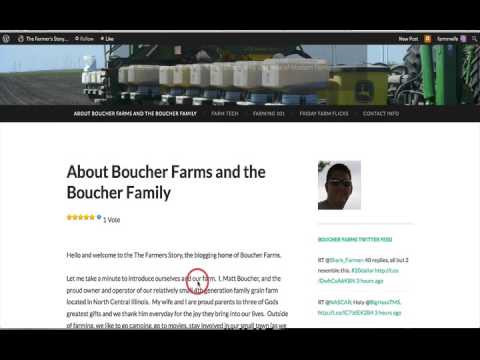 Matt is updating his blog before spring planting sets in. He asked me to take a look at the new theme he chose and particularly the about page.
My suggestions: 1. move the about the blog paragraph up to the top. The readers what to know why they should read or spend time on your blog. 2. Add video and pictures. 3. Index what the other pages on the site are about. 4. shorten the page name in the navigation bar
Sidebar: 1.  remove the tags widget or move it to the footer 2. have fewer categories 3. instagram pictures are good.  4. tighten up the facebook like widget 5. show popular posts instead of recent
Contact Page: Add the contact form to make it simple for readers to contact you
I like the theme. Thanks, Matt.
You can see his blog at Boucher Farms.
If you would like me to do a quick review of your farm site for suggestions, just let me know.